Groundbreaking of New Child Care Center
Nov 16, 2023
Sheffield, Iowa- With shovels in hand and a ceremonial toss of dirt, an official groundbreaking welcomes in a new era of childcare in Franklin County.
Local and state leaders joined Sukup Manufacturing Co, West Fork School District, and UBTC to break ground on Bin Town Child Care in Sheffield, Iowa.
"In a sense, we are planting this child care facility," Emily Schmitt, Sukup CAO, announced before the Thursday morning gathering. "As Bin Town is built, we will be able to watch something beautiful grow. Our hope is it's a place to nurture, protect, and love children from all walks of life for years to come."
Schmitt is witness to the need. She is a leader with Sheffield Childcare Expansion, a consortium consisting of Sukup Manufacturing Co., West Fork School District, and UBTC. Together, they secured a matching grant from Future Ready Iowa.
As a third generation Sukup family member, Emily has seen the impact a lack of childcare has had on Sukup Manufacturing Co. and its employees. More than 600 from 9 north Iowa counties work at the manufacturer. A city survey taken in 2022 showed 90+ families were seeking Sheffield-area childcare. Families drive up to 30 miles for providers and many of those families would make the switch if a Sheffield option were available.
Located at 442 South Gilman Street in Sheffield, Iowa, Bin Town Child Care is expected to open in late summer of 2024. King Construction will build what has been designed with Atura Architecture.
Also speaking at Thursday's ceremony were John Trewin, President UBTC and Kathy Leggett, Future Ready Iowa Policy Advisor, Iowa Workforce Development.
While Iowa Governor Kim Reynolds was unable to attend, she did send a letter noting her pleasure that the project was on its way to completion.
Addressed to Schmitt, the governor wrote, in part, "As a working mother and businesswoman with deep roots in rural Iowa, you know firsthand what high-quality child care means for families, communities, and employers alike. Your successful leadership of the Child Care Task Force also means that nobody has done more to make it available all across our state. That's why it's so powerful-though not at all surprising-to see you following through for your own community and employees."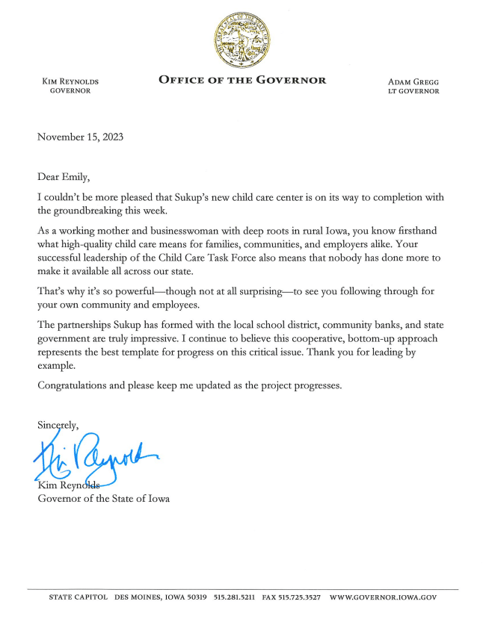 Schmitt served as past chair of the Governor's Child Care Task Force, bringing that experience to early planning stages and project fruition of Bin Town Child Care.
Next comes the fundraising. While the grant helped with a large portion of the project, there is still a significant need. Amy Fleming, Community and Internal Communications Coordinator at Sukup, explains there are opportunities for those who contribute.
"We know we are not the only business out there with a need for childcare for our employees. There are incentives for those wanting to join in our mission," Fleming says.
As the consortium actively explores potential childcare partnership possibilities, Schmitt brings what has become a project close to her heart, full circle.
"My grandparents and company founders Eugene and Mary Sukup started Hampton Christian Daycare many years ago. It is rewarding yet grounding to witness the fruition of our family values once again at Sukup generations later."
For those interested in potential employment at Bin Town, want more information on fundraising, or would like to add their name to the Bin Town Child Care wait list, just go to this website: sheffieldchildcare (sukup.com).