Heartfelt Artistry: A Glass Heart's Journey Uniting Ukraine, Iowa, and Denmark
Nov 19, 2023
Conflict is painful but with the right heart, hope remains there will be resolution.
Hope can come through word or deed, but there are those who possess an ability to seek resolution and peace. For people around the world, it has been their prayer to see an end to Ukraine's ongoing war with Russia.
An inspired midwestern artist has honored a dangerous mission with color and glass. For those involved in Ukraine rescue mission of 2022, a piece of art symbolizes bravery and boldness-and provides a reminder to never forget.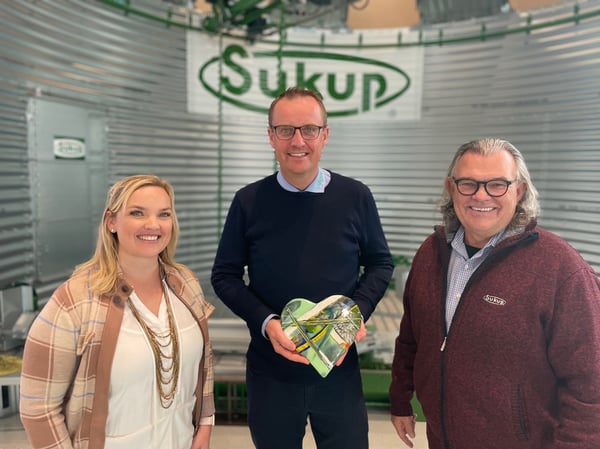 When Russia invaded Ukraine in late February of that year, our counterparts at Sukup Europe reached out to leaders at Sheffield-based Sukup Manufacturing Co. With business partner Grain House Company in the now embattled Ukraine, Jens Erik Iversen (Sukup EU) had been in touch with Andriy Semenovych (Grain House Company). They needed help as their men were called to war and their families needed to evacuate.
Steve Sukup, CEO, and team okayed a financial commitment to aid with a 1,200-mile rescue. Dozens of women, children, and elderly were moved from Ukraine to Poland. A shocking yet safe community swap supported by company leadership.
"Today around 70% have left Denmark and gone back to their homeland Ukraine," remarks Jens Erik Iversen. Jens played a pivotal role in the rescue and recounts the grateful souls who took that chance trip.
Sukup Manufacturing CAO Emily Schmitt does not take those moments for granted.
Her brightly lit office is filled with framed photos of family, books, and mementos that signify the various adventures throughout her career. Nestled prominently amongst her eclectic collection is a glass heart.
"It's what I see when I enter my office," Emily smiles. "It's a great reminder of a bigger purpose of why I'm here."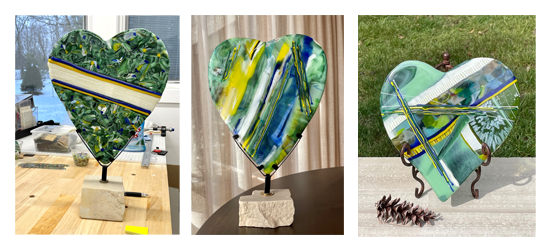 The artwork symbolizes the Ukrainian Rescue Mission of 2022. Crafted by hand and designed with a myriad of colors, you may be surprised to learn that the heart's fragments are deliberately entwined. It is melded with meaning. Artist Patty Housby explains there is meaning behind each element.
Green is the dominant color. It symbolizes the role of #TeamSukup. Thin strands of glass represent individuals involved with the rescue, with broader additions of white representing hope. There is a sister heart that has been given to Sukup EU. Not identical, but similar.
"The majority and the base of the piece is green for Sukup's role in the mission. The Ukrainian colors of yellow + blue=" Sukup" green. The colors representing the two countries uniting (and I loved the concept that by combining yellow with blue you get green)."
Patty Housby is the artist behind the masterpiece, but she does not want any attention drawn to the work. Her design is heart inspired. Right down to the strands within the glass.
"The longer single glass strands of yellow, blue, and green represent the individuals involved in this mission and connect to each other at different points representing the need to reach out at times to one another. The strands, both separate and together show our connection while maintaining our individual uniqueness.  The cream and white glass forms a pathway, a sign of hope and a "trek to safety." The sunflower is the national flower of Ukraine and has become a symbol of resistance against the invasion of Russian forces.  After many, many firings I felt there was a missing element, so I played with both pre-fired glass pieces and cut-glass pieces."
Patty describes the almost supernatural way the artwork came together. Meant to display calm and peace, it points the way to an element of success in the mission. The artist used glass; cut glass pieces and pre-fired. There are intentional uses of color and then an appearance of meaningful shapes. Woven together are the blatant messages of hope and peace, as well as the dynamic and inspirational friendship between a few familiar faces but also strangers.
More than a work of art, Patty is a testament to the labor of love it became.
"There are elements I worked incredibly hard to include and others that, "just came together" throughout the process. I wanted each heart to "stand on its own" and not just be the same message reiterated multiple times but different stories reflecting the mission and rescue."