Sukup® Mixed Flow Dryer: Effective & Efficient
Nov 10, 2022
Bare fields dot the Midwest landscape, as farmers wrap up the fall harvest.
The latest reports show a majority of the beans are out with corn crops close behind. Producers will either sell or store for now. Many utilize grain dryers to get their product to the desired moisture level. And if storing, they're working to prevent loss and get the best price for their crop. It's an investment and a financial outcome that can change quickly and unexpectedly. But there are things you can do to make sure you've done all you can to achieve success both in and out of the field.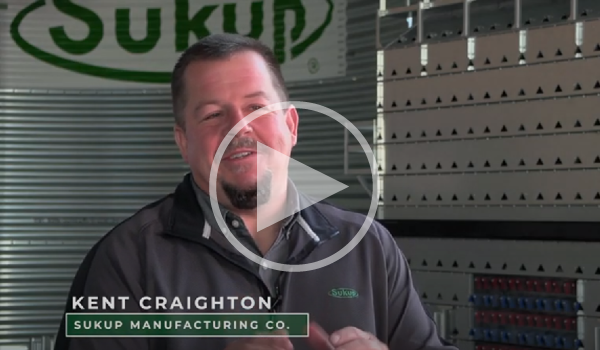 Sukup Manufacturing Co. recently worked alongside a central Iowa businessman to learn simple ways to save dollars on the farm. There's a particular dryer that can offer success on multiple levels. The Sukup® Mixed Flow Dryer is an energy-efficient and effective option for farm operations.
Chad Kloberdanz with Kloberdanz Consulting focuses on Energy Efficiency Solutions for Rural America. His services span the country, as he helps producers determine effective ways to cut back on energy use. His goal is to help agricultural producers be more sustainable, more energy efficient and lessen their carbon footprint.
Kent Craighton, Territory Manager at Sukup Manufacturing Co., doesn't hesitate when it comes to a product that can be energy efficient for your operation. The Sukup® Mixed Flow Dryer.
"The Mixed Flow is the only dryer out there that has the option of vacuum cooling. No other Mixed Flow out there offers that. That is a big selling feature for the Sukup® Mixed Flow Dryer that allows the farmer to control how much cooling he wants to do."
Kent goes on to detail the process and just how effectively and efficiently the Sukup® Mixed Flow Dryer works. It combines the grain quality of a mixed-flow dryer with the vacuum-cooling efficiency of a tower dryer. The result is high test weight grain while burning less fuel per bushel dried.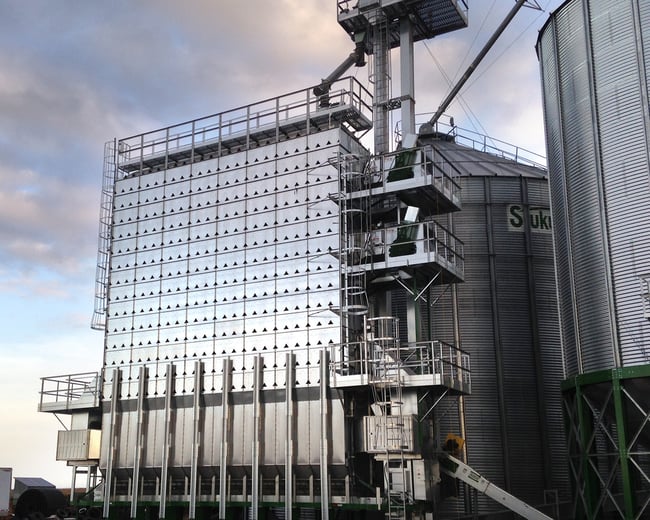 Sukup Mixed Flow Dyer
Farm sizes are on the rise. With the growth comes the need to do more as efficiently as possible. If you're not sure you're on the right path, Chad Kloberdanz can help. He'll come out to your site to do a farm audit. It won't take a lot of your time. Even a telephone call with Chad can reveal some simple ways to cut costs. It helps to have your past energy bills around to tell your usage story.
Chad explains, "I essentially perform a feasibility study or energy study. It's there we can identify energy saving opportunities. Oftentimes we discuss a grain dryer, or material handling system, etc. I can learn that maybe their ultimate goal would identify other potential problems to solve along the way."
Remote monitoring is another beneficial option for those purchasing Sukup Manufacturing Co. Mixed Flow Dryers.
"They can actually purchase a package from Sukup. It's called mysukup.com or my Sukup. And it's a service that allows them to get on the internet and connect to their dryer from their cell phone."
Kent goes on to talk about the steps you'll need to take to take advantage of this service. You'll need Internet at the dryer site; a router located there to pick up that wireless signal. While you can't run your dryer from your phone. There are many operations you can utilize from your device that can save you time and money, especially at a time when hired hands can be hard to come by.
---
Advantages of Sukup Mixed-flow dryers:
Longer grain retention results in better grain quality and test weight

Less fan HP for the same capacity than cross-flow dryers

Less fuel consumption per bushel than cross-flow dryers

Little cleaning required in season to maintain dryer capacity and efficiency
---
If you don't own a Mixed Flow Dryer, contact your nearest Sukup dealer. You can talk to someone like Chad, as well. With his help, you can learn about current incentives or grant money available to help with the costs. Currently, producers can save about 25% of project costs with the right incentive. The details are still unknown at this time, but there could be a much higher savings come January 1, 2023. Chad remains hopeful that will come to fruition. In the meantime, he can point you in the right direction. He and his family have ties to both ag and energy. More importantly, Chad desires to learn more about your operation and how he can get you connected to funding options or grant applications.
Kent echoes what Chad says and also wants to encourage you to get after things and plan for 2023.
"Now is definitely the time to be finalizing those plans. I don't want folks making quick decisions and buying something they're not sure what they're getting. They need to be educated on that. Make sure you're working with the dealer to get the answer to the questions you have."
Kent adds, if you're not sure where to start, start with the dryer. If you're looking at grants, now is the time to go after the funding. Chad can help. Our dealers can help. We can help.
For more information on Mixed-Flow Dryers and Farm Efficiency check out more articles: https://info.sukup.com/farm-efficiency.