Rural Voice Offers Farmers Ways to Save Money
Nov 8, 2022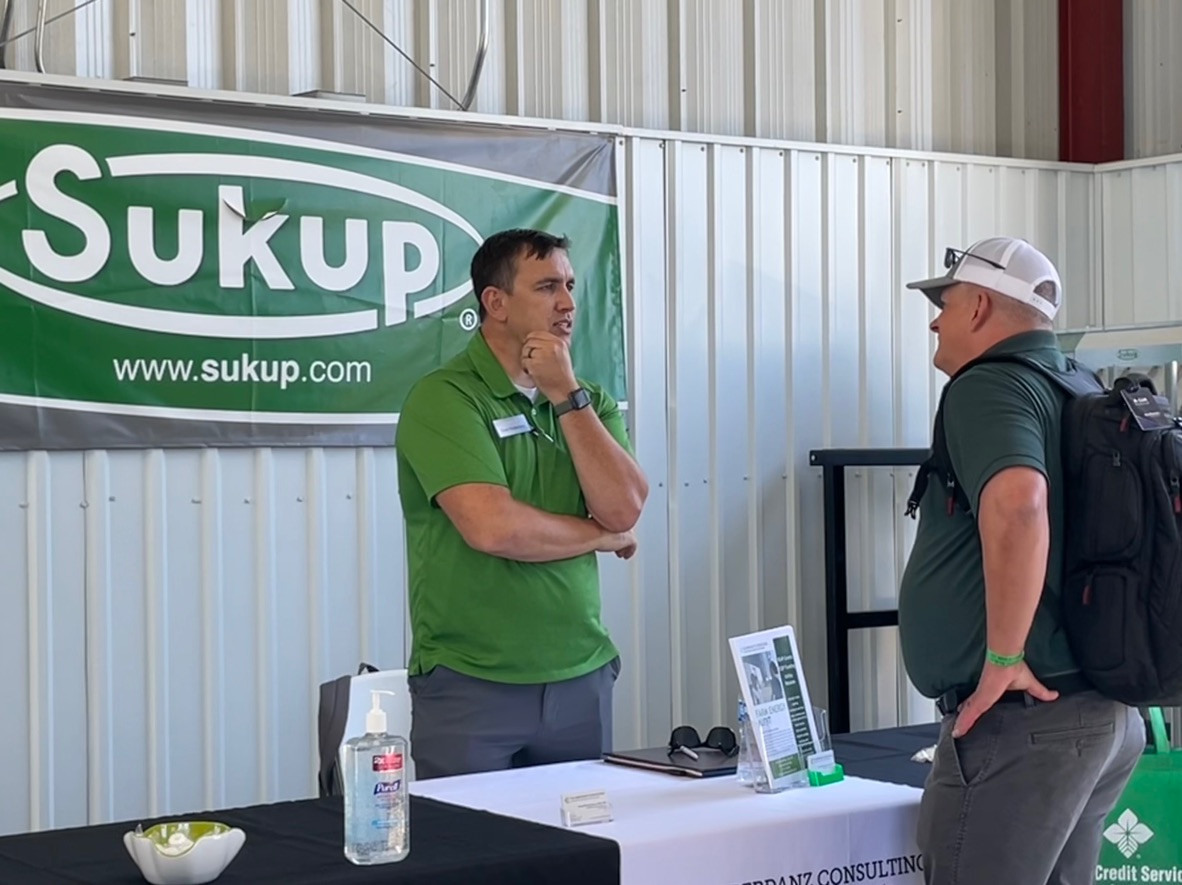 Chad Kloberdanz discusses energy savings at Farm Progress in the Sukup Booth.
Boone, Iowa- Farmers wear many hats and manage a diverse workload all while focusing on sustainability and efficiency.
Every farm operation is different; whether its a dairy production out east or a crop farmer in the Midwest, there's a guy that can shine a new light on some potential cost savings you may not be aware of.
Knowing this, we recently invited Chad Kloberdanz with Kloberdanz Consulting to set up inside the Sukup Manufacturing Booth at the Farm Progress Show. His focus is Energy Efficiency Solutions for Rural America. While based out of Iowa, Chad travels around the country helping producers evaluate their current energy usage. The goal is to look at all parts of the operation to determine ways to cut back energy usage and ultimately improve the bottom line.
"I can help agricultural producers be more sustainable, more energy efficient and lessen their carbon footprint."
Chad tells us there are many opportunities for agricultural producers who want to make energy efficient improvements to their operations. And he can help with the details. Chad does what's called a farm energy audit. And it doesn't take a lot of a participant's time. Even a phone call can reveal simple, but important ways of saving energy. Turning off lights, updated lighting and even the way batteries are charged can all add up. Past utility bills also offer a better look at the current situation.
"I'm here to help them. I truly take every job pretty personally. People feel comfortable talking to me. Trust me. Being more energy efficient will profit your farm operation. Saving in specific areas can mean putting that money elsewhere."
The interaction can also introduce farmers to the significant opportunities out there for those men and women interested in making energy efficient improvements to their operations. Through Chad's observations, he can help farmers qualify for funding to make any necessary improvements.
The USDA's Rural Energy for America Program (REAP) can help with financing and funding to make improvements and/or installations. The National Resources Conservation Service's (NRCS) Environmental Quality Incentives Program (EQIP) offers cost-share funding for certain improvements. Chad says there are also many utility providers that offer rebates as incentives.
Chad explains why you should buy into it. "Being more energy efficient will profit your farm operation. You save here so you can have more money to do this."
Sukup Manufacturing Co. recently hosted Chad in their booth at Farm Progress in Boone, Iowa. He was able to have many face to face conversations with potential customers. It's a chance to explain just how simple it all works.
"I essentially perform a feasibility study or energy study. It's there we can identify energy saving opportunities. Oftentimes we discuss a grain dryer, or material handling systems, etc. I can learn that maybe their ultimate goal would identify other potential problems to solve along the way," says Chad. That can be anything from weeds, building insulation or a door that isn't properly sealing.
"Having someone like me, helps the producer come to terms with potential energy-saving opportunities and realize there's some stuff to put on their to-do list."
With his help, producers can get important information regarding incentives or grant money that's available. Currently, there's the opportunity to save about 25% of project costs with the right incentive. While the details are unknown now, there could be a much higher savings come January 1st, 2023. Chad remains hopeful that will come to fruition.
Chad is qualified to understand the challenges facing ag producers. He grew up in rural northeast Iowa. He has family ties to both ag and energy. More importantly, Chad is hungry to learn more about your operation; and excited to get you pointed in the right direction. From funding options, to application requirements, he's aware that there are bound to be quite a few questions along the way.
"I love doing what I do. I know farmers love doing what they do."
If you'd like to reach out to Chad Kloberdanz, contact him at (515) 333-8461. You can also reach him on his website, https://www.kloberdanzconsulting.com.
For more information on Mixed-Flow Dryers and Farm Efficiency check out more articles: https://info.sukup.com/farm-efficiency.