Sukup Celebrates 4 Year Anniversary of Their On-site Health Clinic
Jun 2, 2022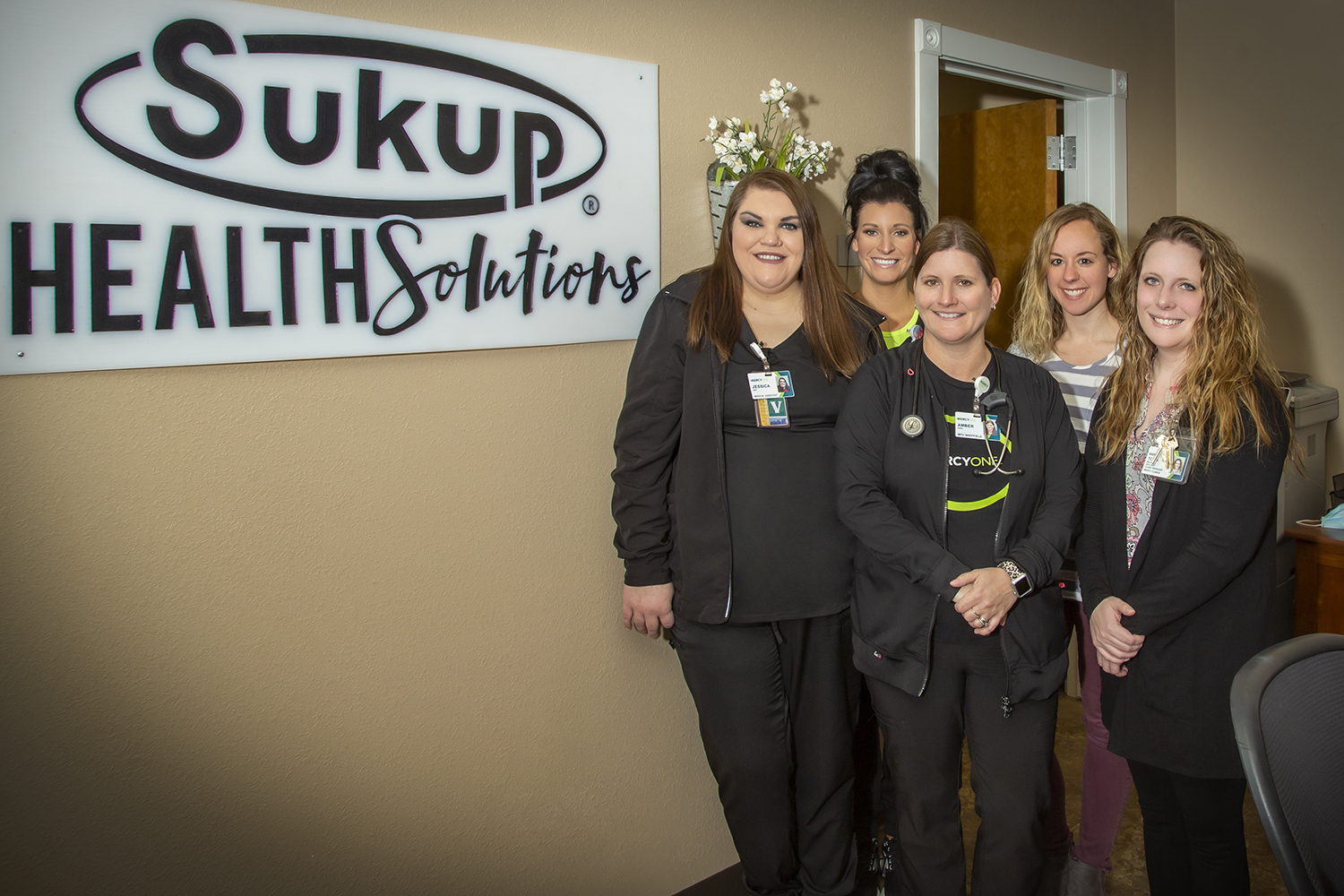 Staff from left to right: front Jessica Tempus CMA, Amber Marzen ARNP, Tonia Silver Clinic Manager back row: Courtney Frerichs RN, Anna Toomsen ARNP
---

As the Director of HR, Samantha Petersburg, was noticing that many of the staff who work in the Sheffield location at Sukup Manufacturing Co. had to take vacation or sick time to go to the doctor. "We have staff that travel from nine different counties, and for them to go to the doctor would take a whole day," Samantha stated. Human Resources approached Emily Schmitt, Sukup CAO, about hiring a nurse. While conducting some research, Emily reached out to Dale Andringa at Vermeer who helped provide guidance on the foundation of a clinic that has been at their location since 1998. As well as research from Meredith Corp., that has employed a nurse since 1900.
Their research also proved that in general, healthier employees are more productive and are less likely to call in sick or use vacation time due to illness. Companies that support workplace health have a greater percentage of employees at work every day. (Referenced from the CDC.gov)
Taking all of the research into consideration Emily exclaimed, "Let's not do a nurse, let's build a whole clinic!" Four years ago the dream of having a clinic on-site became a reality. The Plant Manager at the time, Jon Swanson, was vital in the construction and project management of the clinic. "We had the space in our old office building, which was a perfect place to put the clinic. It's very rewarding to see employees be seen in a quick and timely manner with little or no time off and be able to return to work." Swanson also stated, " The quality of the staff have been wonderful."
The first day of the clinic opening a supervisor yelled down the hall to the HR hallway – "the clinic works great! Clocked out, got seen, and clocked back in within 15 minutes – Thank you!"
The goal was to make sure that employees felt safe, cared for and provided convenience. The clinic started with one Registered Nurse, Amber Marzen, ARNP, who is still there today. In fact, Amber has enjoyed working at the clinic and seeing the growth of visits over the years, she decided to go back to school and is now a Nurse Practitioner.
"The biggest success I've seen over the last four years is helping individuals get established with a provider so they can receive the care that they need. I have enjoyed meeting so many Sukup employees that have chronic (or acute) conditions. And now they are able to receive the care they need conveniently and without missing a lot of time away from work. The employees are so appreciative of this!" Amber stated.
The clinic has over 650 provider visits and over 1,500 nurse visits a year and has grown in the last four years from having one staff to four. Every year the clinic has expanded its hours and added staffing. "Sukup had a vision of what they wanted to provide for employees and MercyOne and Sukup have worked well to evolve the clinic to where we are today."
Sukup has invested the time and focus on employee health to create a healthy work environment and benefits. Part of their zero dollar employee health insurance includes a biometric screening. A biometric screening is a short health exam that includes bloodwork and measurements like height, weight and waist circumference. Due to these screenings the clinic has seen that more Sukup employees trust the clinic staff and now follow up on some health issues that they may have ignored for too long.
The clinic is open Monday through Friday, 7 am to 5 pm and only serves the Sukup employee base. There is additional space in the clinic that has the potential to grow and add additional services they are even looking at providing care for Sukup employee families in the future.
*This is a repost of a initial post on April 18th, 2022