Sukup Celebrates National Ag Day
Jun 2, 2022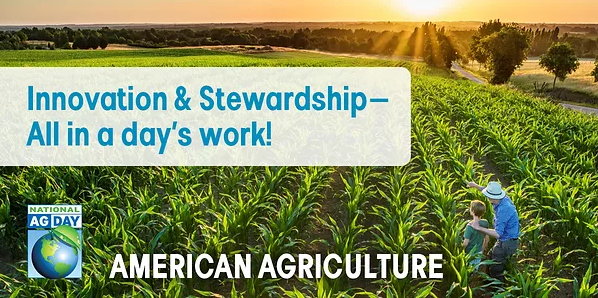 Sukup Manufacturing Co. is proud to celebrate a day that brings awareness and promotes American agriculture.
On this National Ag Day, we salute the men and women serving in one of the world's oldest professions. It's a day that in part, educates millions of consumers who may not see the direct impact agriculture has on them and surrounding communities.
Our company's founder, Eugene Sukup was a young farmer when he purchased his first grain bin in 1962. For this enterprising young man, drying and storing shelled corn was too slow. His invention, the Stirway® stirring machine, started Sukup Manufacturing Co. in 1963. Eugene and his wife Mary helped to create a business meant to help our agricultural professionals. In turn, the company is providing jobs for hundreds in a small north Iowa community and is impacting farm sites around the world.
Current President and CEO Steve Sukup recognizes all who, like his father, contribute to the industry in some way. There's a drive today to continue to provide farmers with grain bins and other products they need to run a successful venture.
"We believe it's the piece of equipment on the farm that can earn you money. So we ask, 'how are we going to help the grain and kernels of each of our customers?' At the end of the day, what happens on that site impacts so many."
Agriculture feeds the world. Provides jobs. Impacts everyone in some way; whether they live in the city or in the country. Historically, environmentally and economically; humans can find significance in the life of a farmer or in the farming community.
"Farming may look different in 2022 than when my grandfather started the company, as younger generations incorporate technology into their ever-growing sites," says Emily Schmitt, CAO and 3rd generation Sukup family member. "At Sukup Manufacturing Co., we aim to help farmers, many of which are families, operate their farms in a more efficient and safe manner."
It isn't just the food. Ag provides us clothing, fuel and impacts the environment. We must continue to educate, starting in the classroom and continuing into higher education. Sukup Manufacturing Co. remains committed to our farmers both in the field and philanthropically.
Schmitt adds, "We are grateful to the men and women playing a role in the important food supply chain industry. Thank you farmers."
*This is a repost of an initial post on March 22, 2022