Sukup Celebrates Workplace Inclusivity
Dec 3, 2022
It takes many personalities to make the world go round. At Sukup Manufacturing Co., there's no shortage of diversity! From the hundreds of employees to the jobs they do, you can learn a lot about those you work with and the work that surround you, each and every day.
Meet Kelly Fink. For the past year and a half, she's been committed to her job at the world's largest family-owned and operated manufacturer of grain storage and grain drying and handling equipment.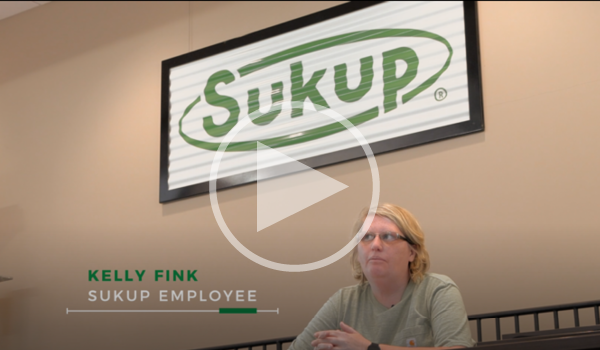 "I work in the office. I pick up recycling on Monday, Wednesday, and Friday. Tuesday-Thursday I pick up the shred."
She's a friendly, happy-go-lucky face at the Sheffield-based Corporate Headquarters. Without her, recycling bins would overflow and the shredding of paperwork wouldn't happen. There are packages from the stockroom that would remain unclaimed and some sanitizing that wouldn't happen around the office. What Kelly does each and every day matters in the ebb and flow of the work place.
Her parents are proud to see what she's accomplishing.
"They were so happy for me. They were so happy because I got a job at Sukup. My relatives worked here before I did, my grandma. Most all of my uncles."
There's reason to celebrate Kelly's accomplishments.
"I can't learn it or I can't learn as fast as other people can. I have to take my time and figure things out," Kelly explains.
December 3rd marks International Day of Persons with Disabilities. The United National General Assembly proclaimed the resolution in 1992. It's meant to promote the understanding of disability issues and gain support for worker rights.
To Abby Wise, a Sukup Manufacturing Co., HR Generalist, people of all abilities represent the fabric of the company's workforce.
"The opportunities are endless. We tailor each position to each individual," she explains. "I think anyone of any ability has something to offer. And we like all the different perspectives, all the different personalities, everything that anyone can bring to the table."
Sukup works with One Vision and 43 North Iowa. Those organizations exist to support clients like Kelly. The staff works to build an inclusive community and to find the right job-fit for their clients. At Sukup, potential employees go through an interview process and if hired, get an individualized work plan.
Abby says it's a satisfying and exciting process.
"That builds our culture, builds trust as a company and in the community."
For Kelly, she looks forward to walking through Sukup's doors.
"I'm proud of myself. I'm always happy. I'm kind. I get along well with people," she says.