Sukup Debuts Grain Bin Door with Enhanced Safety Features
Jun 2, 2022
Sukup Manufacturing Co. is now offering grain bin doors with enhanced safety features. The doors have new hardware that ensures inner panels are closed before the outer door will close correctly with both latches engaged. The new hardware can be mounted on either side of the door, providing enhanced safety whether the door is installed to open left to right or right to left. The design is currently patent pending.
"Inadvertent grain spillage from your bin door can potentially cause death or injury," said Sukup bin sales director John Hanig. "Here at Sukup, we are continuously working to improve the design of our products to make them as safe and productive as possible. This new door design especially enhances safety by making sure the inner door panels are always closed when the outside door is closed."
Inner panels of Sukup's 44" and 66" tall doors, both of which use the new safety hardware, provide structural support to grain bins.
"Grain Bin Safety Week is the right time to share this new door design as a way to underline Sukup's commitment to farm safety," said Steve Sukup, President and CEO of Sukup Manufacturing Co. "Our goal is to manufacture the highest quality equipment that helps farmers be efficient and profitable, but also maintain safety as a top priority."
---
About Sukup Manufacturing Co.
Sukup Manufacturing Co. is the world's largest family-owned and operated manufacturer of grain storage, drying, and handling equipment, and steel buildings. The company is headquartered in America's heartland - Sheffield, Iowa - and covers more than one million square feet of office, manufacturing and warehouse space. The company employs more than 600 people, making it one of the largest employers in North Central Iowa. Three generations of the family are active in the business.
Sukup's product line includes on-farm and commercial grain bins; portable, mixed-flow and tower dryers; centrifugal and axial fans and heaters; stirring machines; bin unloading equipment and bin floors and supports. Sukup also manufactures material handling equipment including bucket elevators, conveyors and support structures; and steel buildings. Sukup has six distribution centers in the Midwest. Sukup products are sold throughout the U.S. and Canada, and in more than 80 other countries.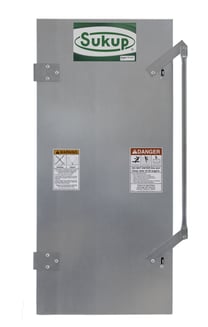 *This is a repost of an initial post on March 30, 2021