Sukup Employee Wins Blue Ribbon at the Iowa State Fair
Oct 13, 2022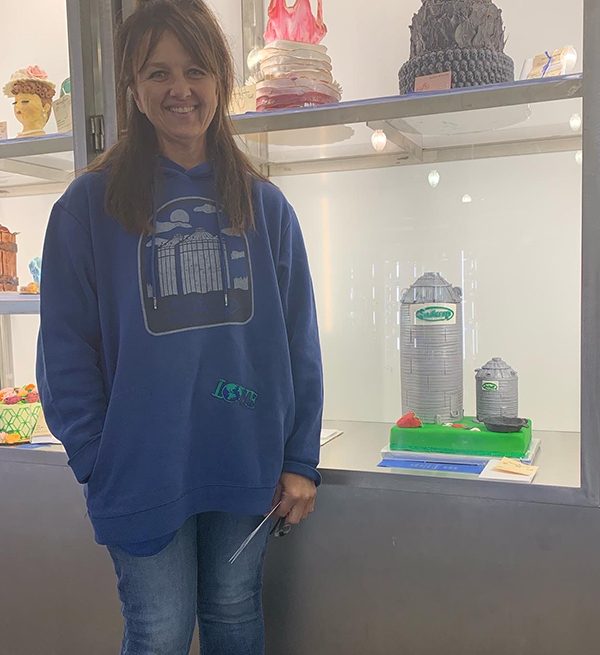 A love for both her company and cake leads to a blue ribbon for a Sukup Manufacturing Co. employee.
Kristin Becker is a Dryer Column Assembly Lead at the Sheffield, Iowa site. She's also been making cakes for 30 years.
She's passionate about both work and play, so Kristin decided to try her hand at baking a bin with a Sukup design. It lead to an impressive creation for the Iowa State Fair Decorated Cakes-Adult Open-Sculpted Cake competition.
Her delight in dessert decorating started at age 18 when she worked at a grocery store bakery. It's something that's always come easy for her.
Her inspiration was big.
"Iowa has a lot of World's Largest sites! World's Largest strawberry in Strawberry Point, World's Largest frying pan in Brandon and of course the World's Largest grain bin in Mason City," stated Kristin.
While she initially considered an Iowa-shaped cake with all of those featured sites, she quickly realized the size would likely disqualify her from the competition. Thinking outside the "cake pan", Kristin found another way to showcase the sites.
She asked permission and received the rights to use the Sukup logo. Then she baked the World's Largest Grain Bin, strawberry and frying pan!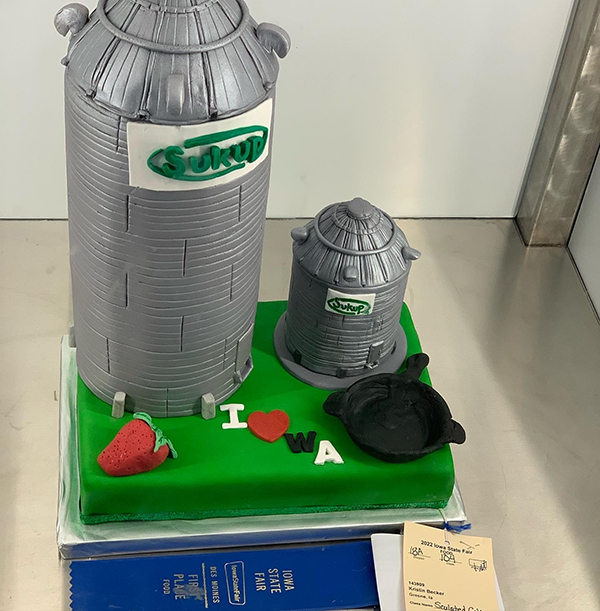 "She has a lot of energy and puts a lot of motivation and creativity into a job that can sometimes feel repetitive," said Yoland Velica, Dryer Building Supervisor. "Kristin has created incentives for her team each week, and when they meet their goal, they have a pot luck with different food themes."
Yolanda and Kristin make a great team at Sukup, and it seemed fitting for her to create this cake for the state fair. Kristin has been at Sukup for 3 years and loves that she can organize and lead her team to continue to reach goals weekly. Not only does Kristin organize incentivized pot lucks, but she bakes cakes and cupcakes for employees for their birthdays, too.
"I love to bring joy to the person getting it. I love to hear, 'it's too pretty to eat.' Each cake should be enjoyed, and I love making their day special."
Kristin makes up to 100 cupcakes for the employees in her building at Sukup, and she customizes each cake to the birthday person's favorite flavor.
It's more than just a State Fair cake entry for Kristin. She wants to bring joy to those that see it and the blue ribbon is 'icing on the cake' as they say.
Entries were judged on execution, difficulty, appearance, neatness, originality, design and edible applications according to the iowastatefair.org website.