Sukup Manufacturing Co. Announces CMO Hire
Oct 13, 2022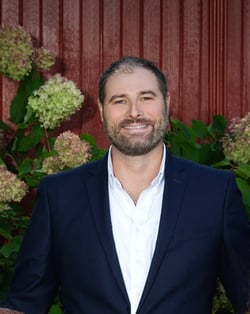 After 16-years of dedicated experience, Matt Koch will join the executive team at Sukup Manufacturing Co.
President and CEO, Steve Sukup, announced that Koch will take on a new role as Chief Marketing Officer (CMO).
As the former Director of IT & Product Integration Matt will be tasked with helping shape the company's brand in today's ever-changing market.
"I've always been passionate about the Sukup brand. I am a big believer in data driven decisions and measurable goals are highly important. Marketing is a mixture of art and science; I believe being able to quantify, measure and pull meaning from disaggregated data is important. That information, and the ability to communicate and understand it, is where the real magic happens."
Matt has experience in many different capacities at Sukup including hardware/software engineering, product design & development, vendor relations, pricing strategy and negotiation, margin analysis, sales and client development, advertising and web development, information technology and shop floor operations management.
Matt's experience and leadership helped shape Sukup's vision for automation initiatives over the past decade. He designed Sukup's first generation touch-panel control system; a product that established Sukup as the premier grain drying manufacturer in the world and is listed as the primary inventor on several Sukup patents. Matt has also led the IT, engineering and sales departments and new technology initiatives for Sukup globally. As CMO, Matt will ensure that the company's mission statement, products, values, and services positively connect with employees, dealers and the end-customer.
Additionally, Matt's public policy, sales and client development, and venture capital experiences will play an integral role in this new position.
Matt is a third generation family member who is passionate about the Sukup brand and will strive to align measurable goals with data driven decisions.
Steve Sukup believes bringing Koch on to the executive team is a positive step forward.
"I believe Matt will bring strong leadership and oversight as the Sukup brand continues to evolve to meet customer needs. He will be a valuable addition to our team with his product and industry knowledge," said Steve Sukup, President and CEO. "As CMO Matt will work diligently to understand our competitive position in the marketplace, product support and focus on pricing and market strategies."
Third generation family members in management roles at Sukup Manufacturing Co. include: Emily Schmitt, Chief Administrative Officer and general counsel; Andy Schmitt, capital improvements and infrastructure manager; and Nick Sukup, material handling production control, and Andrew Sukup holds a manufacturing role at the company. Mary Sukup, co-founder of the company, serves as Corporate Secretary. Charles Sukup, second generation, serves as chairman of the board.
About Sukup Manufacturing Co.
Sukup Manufacturing co. is the world's largest family-owned and operated manufacturer of grain storage, drying and handling equipment, and steel structures. The company is headquartered in America's heartland – Sheffield, Iowa – and covers one million square feet of office, manufacturing and warehouse space. The company employs more than 600 people, making it one of the largest employers in North Central Iowa. Three generations of the family are active in the business.
Sukup constantly strives to push the boundaries of innovation and quality and currently holds the record for the world's largest grain bin that holds 2.2 million bushels of corn. The company prides itself on its philanthropic efforts in giving back to local, statewide and international charities including the design and construction of Safe T Home®, a patented structure suitable for recovery efforts.
Sukup is a global company with locations in Hedensted, Denmark and six distribution centers across the Midwest.