Sukup Manufacturing Co. Recognized For Giving Back
Oct 20, 2023
The 2023 Community Award was awarded to Sukup Manufacturing Co. by Innovative Captive Strategies at the latest WELLth Captive Annual Meeting. Samantha Petersburg, Director of Human Resources accepted the award on behalf of Sukup. Sukup Manufacturing Co. has always made it a point to try and give back to the community and create a positive workplace for employees. The company received recognition for their efforts done in providing employees with floating holidays, scholarships to high school students, creating Safe T Homes® to provide housing for the developing world, and help Ukrainian refugees after Russie invaded Ukraine.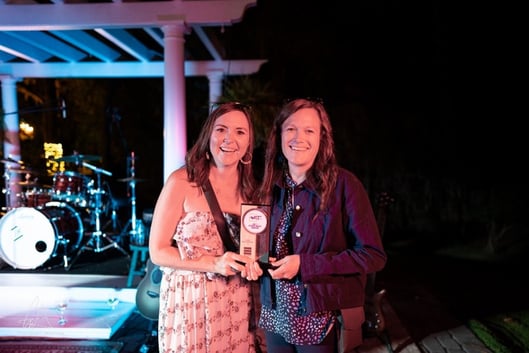 Sukup thinks it is important to support their employees and do what they can to help them. Employees of the company are provided floating holidays, where they can take a paid day off for a holiday that might not be recognized on the calendar. This allows them to be able to celebrate other holidays or birthdays that they would not already get off. They also support employees through the healthcare they offer, with a free on-site health clinic that employees can access at any time of the week. Along with $0 healthcare and dental, paid sick and vacation days, parental leave to all new parents, and annual company events. Sukup also thinks it is important to support the younger generation, annual scholarships are awarded to the children of employees to help them after graduation.
Sukup Manufacturing Co. shows how important it is to them to lend a hand where help is needed all around the world. Sukup partnered with Go Serv Global to give people in developing countries a home to protect them from the elements of the weather. Safe T Homes® have been a big part in Sukup's mission to do God's work and help people in need. There are now over 500 Sukup Safe T Homes® around the world, and they continue to work to get more of them out there. These homes are made to withstand weather, fires, termites, and machetes and have been adapted into schools, dental clinics, birth centers, and more.
When Russia invaded Ukraine on February 24, 2022, a plan was quickly put in place to help save more than 30 Ukrainian women, children, and elderly. Sukup Europe and business partner, Grain House Company felt a very personal connection to this and wanted to do something to help. Sukup Europe's Managing Director/Sales Manager Jens Erik Iversen and Andriy Semenovych co-founder of Grain House Company worked to secure funds and supplies for a caravan to meet at the Polish border and bring the women and children back to Denmark, and soon these families were safe and sheltered. Jens says, "Big, big thanks for the Sukup family's support to be able to do this. It makes everyone within this company so proud and it's made a huge difference." But for the Sukup's back in Iowa it was never in question that this is what they needed to do, Emily Schmitt, CAO & General Counsel, has been a big part of the various mission projects within the company, she said, "I thought about how natural it was for us to think of aiding Grain House employees' families, and how thankful Jens was when we let him know he had our support to take action. We were surprised he wanted or needed our approval. We knew people needed help and we had the resources to meet that need."
As they wrap up the celebration of their 60th anniversary and the year starts to come to an end, the award comes at a good time to look back on and acknowledge all the good work Sukup has done for their employees and the community. Sukup Manufacturing Co. continues to work to do various things to support employees, the community, and people in need all around the world. It is exciting to see what the next 60 years will bring.