Sukup Name Hits Classic Horse Race Scene
Oct 13, 2022
Horse aficionado or not; it seems folks are taking notice of the recent Belmont Stakes winner.
Jockey Irad Ortiz, Jr. pulled off a breathtaking win atop Mo Donegal on a recent Saturday. But what's really turned heads locally, was the Sukup hats that popped up in the winner's circle.
"We love being in the winner's circle," laughs Sukup Manufacturing President and CEO Steve Sukup.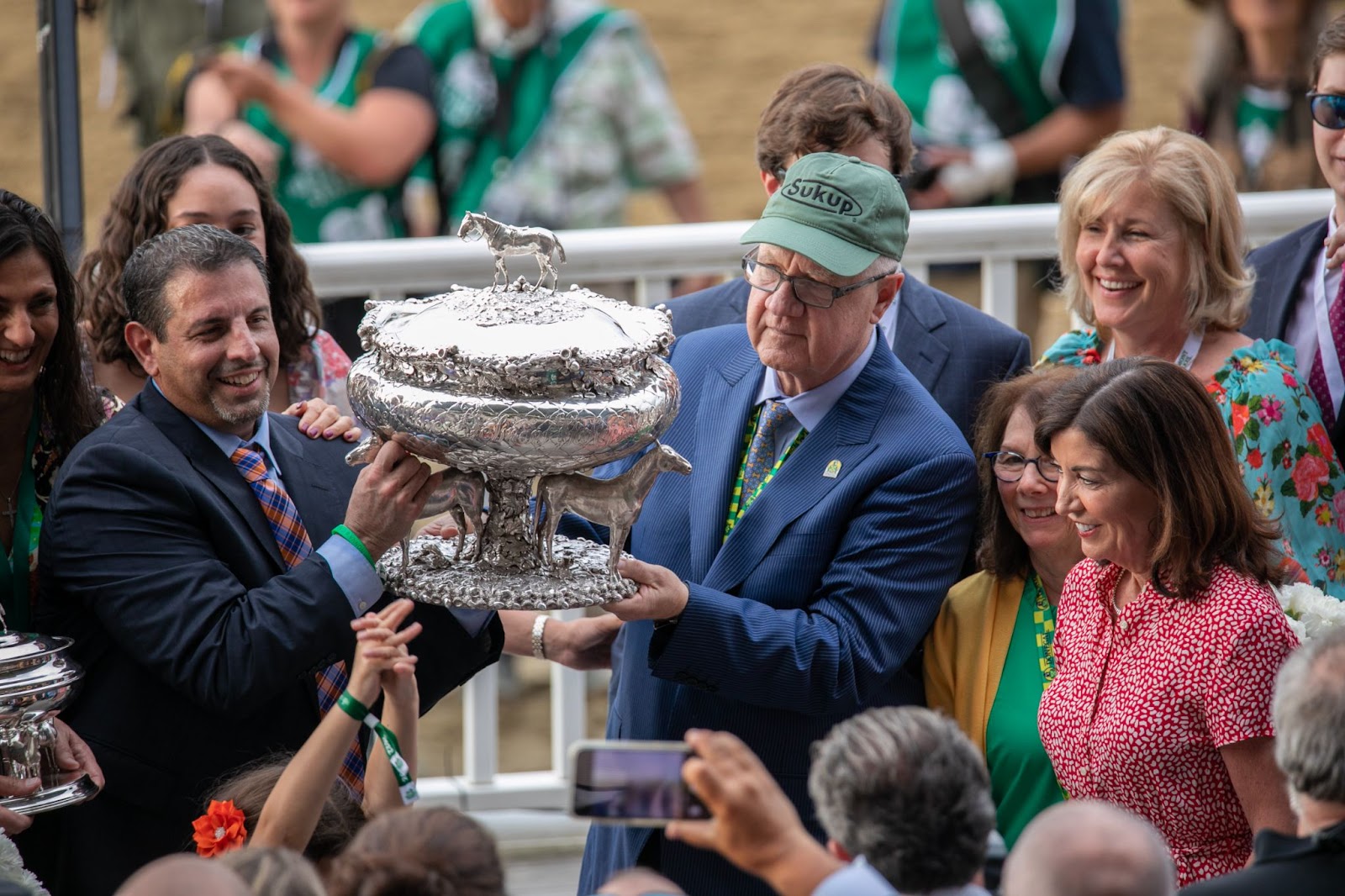 Photo Credit: Keith Luke
All joking aside, the non-traditional advertising got people talking and asking why the Sukup brand, known as the largest family-owned and operated grain bin manufacturer in the world, would end up on the dirt track of Belmont Park in New York.
"It's been fun experiencing the race in this way. We've heard from many customers and friends who are really enjoying seeing the Sukup logo across the national and international media platforms."
A closer look at the jockey showed the company's logo on both legs and fixed on the back of his breeches, as well as the front collar of his shirt. And when it was time to receive the coveted August Belmont Trophy, Donegal Racing President, Jerry Crawford, proudly sported the brand while celebrating the momentous occasion.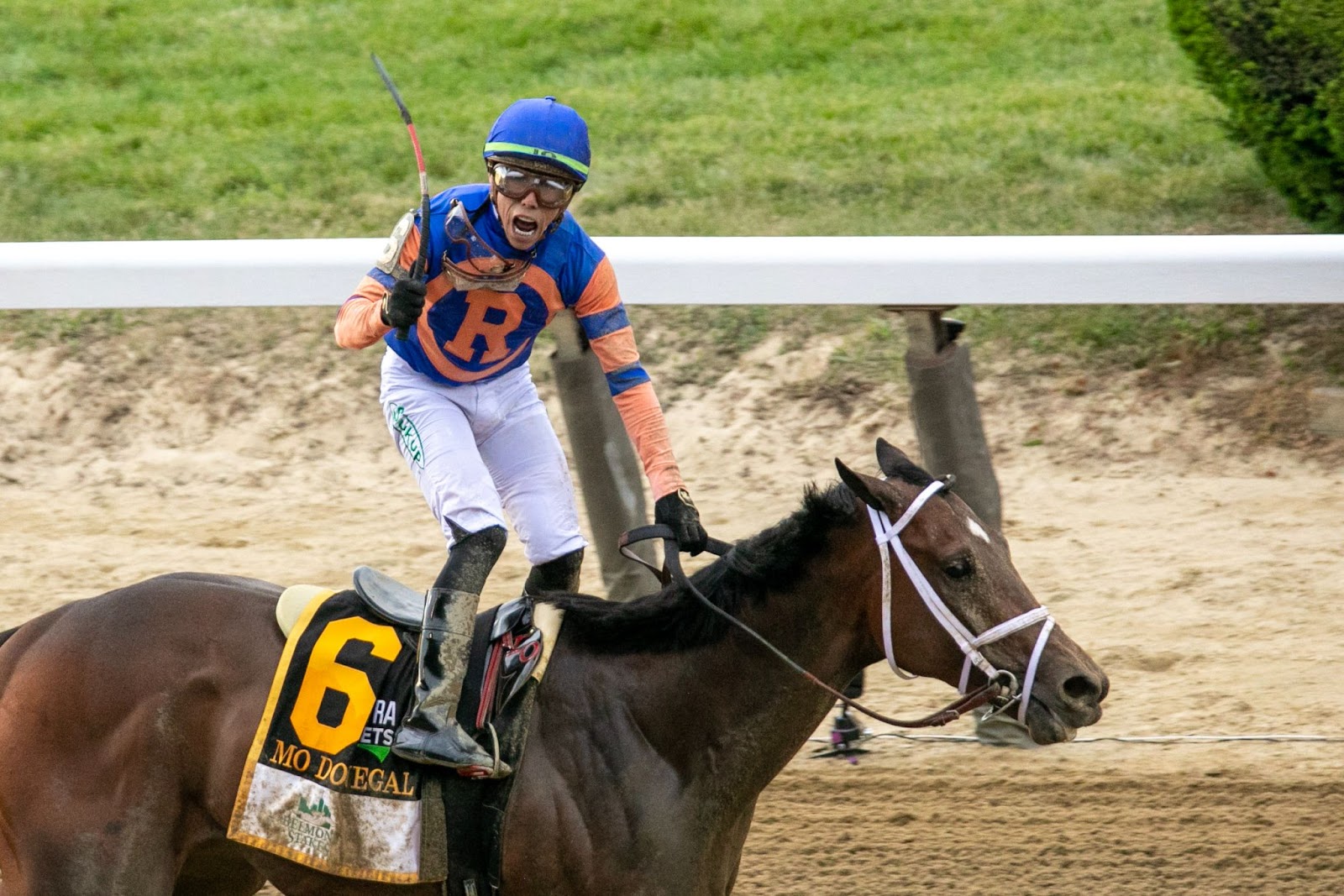 Photo Credit: Keith Luke
Sukup describes the brand awareness approach as unique. He and his wife Vicki are part owners of Mo Donegal. For them, it's been exciting to share the equine experience with others who may or may not know the company name. In reality, it isn't a far stretch to keep an eye on the horse world in the field of agriculture. The most recent USDA stats show more than 1.13 million U.S. horse owners own or lease farms with more than 7.2 million horses on site. You can bet, there's a fan or two in that mix.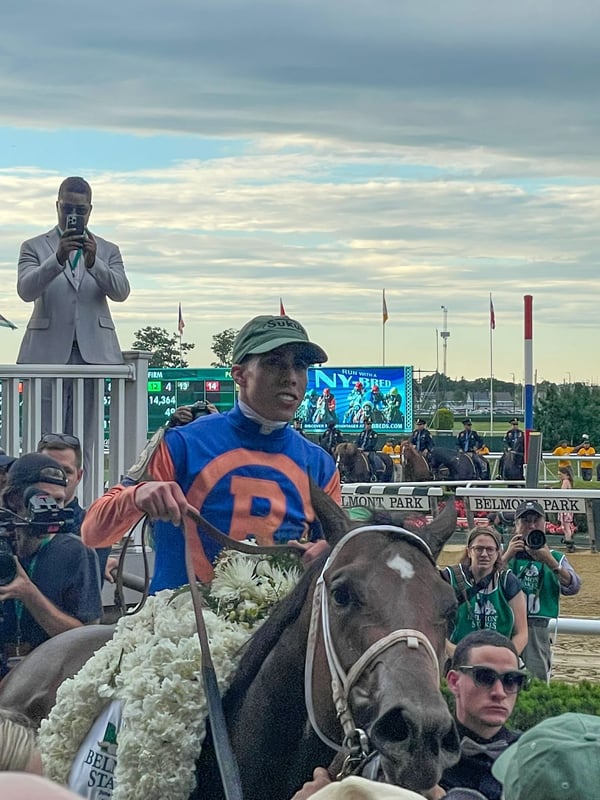 Photo Credit: Keith Luke
If you think you've seen the name on the track before, you're correct! This isn't the first race where we saw the Sukup sponsorship. Churchill Downs provided the elegant backdrop for the outside-the-box advertising approach. Jockey Ortiz donned the same uniform as what many saw at the Belmont, but wasn't able to pull off the win at the Kentucky Derby. While the loss may have been disappointing, the entire advertising experience has proven to be a winning non-traditional approach for those at Sukup Manufacturing Co.