Sukup® Paddle Sweep: A Safe Option for Bin Clean Out
May 11, 2023
The Sukup® Paddle Sweep is a safe and reliable way to clean out your grain bins. Our Material Handling Sales Director, Randy Marcks, knows the ins and the outs of the product. As a farmer and an engineer, Randy knows the value a Sukup Paddle Sweep can provide as operations continue to grow and labor continues to dwindle.
That's just one of many reasons for the creation.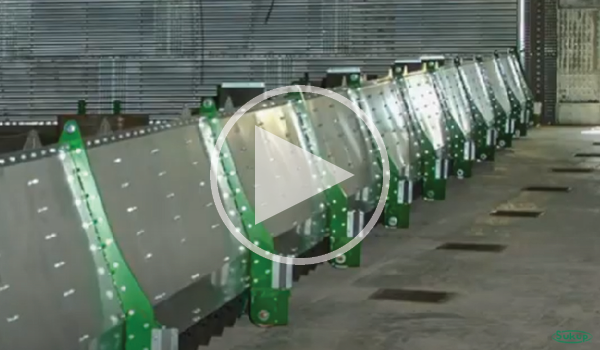 "One of the things we looked at is the labor market. How much labor is available to you? I know it's hard for everybody to get labor these days."
The zero-entry control option allows you to get the job done with the touch of the button. There is minimal human interaction with the machine and that means safety for its users.
"We wanted to make sure this was very user friendly, that it would do a job, and we would eliminate any human interaction. Every time you enter a grain bin there is always a risk that an accident may happen," Randy explains. "As a farmer myself, I understand how important it is that your site is as safe as possible, and everyone at Sukup feels the same way. We want to make sure everyone is getting home to their family at the end of the day."
It isn't just safety that's a draw for the end user. It's also efficient, providing you more time in your workday. Randy describes it as one of the most important factors our team considered when designing it.
"We wanted to make sure the Paddle Sweep would become a key component of your farming process, and we think it will be. With this equipment you'll be able to get the job done in the most efficient and effective way possible. It is very user friendly, with easy set up and easy handling, plus the automation we have put into the design of the sweep, you'll be able to plug it in, turn it on, and walk away." Randy points out there are fewer people required to man the sweep and requires little to no labor.
"With the job the Paddle Sweep does inside the bin, doesn't require you to go inside to shovel or broom sweep the rest of the bin by hand. The paddles were designed to take all the grain out and pull it into the reclaim system, so the whole process from start to finish is handled by turning the machine on and walking away."
If you're interested in learning more about the Sukup Commercial Paddle Sweep, you can read more about this product and all the benefits it offers on our website. You can also fill out the "Download Brochure" form located on our Paddle Sweep page here.